"The Interspiritual Age will require institutions and structures to carry, express and support it" —Bro. Wayne Teasdale, (The Mystic Heart)
ISDnA / OneSpirit Learning Alliance InterSpiritual Education Program
ISDnA and New York-based One Spirit Learning Alliance and Interfaith Seminary (www.onespiritinterfaith.org) have joined to create a public educational program and interfaith seminary curriculum, along with long distance learning, "InterSpirituality and Integral Multifaith", based on Brother Wayne's
The Mystic Heart: Discovering a Universal Spirituality in the World's Religions. This dynamic new program joins the "heart territory" of Brother Wayne's profound and inspirational view of world spirituality with the "skillfull means map" of the Integral thinkers like Ken Wilber and Don Beck. The program uses Wilber's 2006 Integral Spirituality in tandem with The Mystic Heart as the core of the curriculum.
The new initiative joins an informal alliance drawn from the wider New York spiritual community through New York's Coalition for OneVoice, including outstanding teachers from the dharma and "nondual" paths of world spirituality, members of the NY Integral Alliance and Integral Salon, and worldwide friends of Bro. Wayne (including his long time associate Dr. Gorakh Hayashi). The program, coordinated by OneSpirit co-founder and President Michael Pergola, and Dr. Kurt Johnson, another long time associate of Bro. Wayne, includes an expanding number of courses including "Integral Spirituality: Exploring the Common Core of Human Wisdom", "The Evolutionary Journey from Dirt to God", and integral-based elements of One Spirit's Spiritual Depth and Leadership curricula.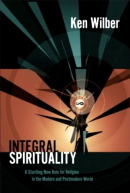 Programs are available on an in person basis and through long distance learning. In addition, the program will initate ongoing creation of new materials further elucidating Bro. Wayne's vision of The InterSpiritual Age. Core materials available at this time include Dr. Kurt Johnson and Dr. Gorakh Hayashi's recent article "The Heart of Brother Wayne Teasdale's Vision of the InterSpiritual Age" and retrospectives on Bro. Wayne given by Dr. Johnson and Dr. Hayashi at the most recent Common Ground conference held in 2007 at The Crossings retreat center in Austin, Texas. The Crossings, founded by Ken and Joyce Beck, initiated the original Common Ground conferences which brought Brother Wayne together with other spiritual leaders from around the world.
To view the curriculum and programs in detail and to see further information on this expanding work and vision, see www.onespiritinterfaith.org/integralmultifaith.htm.